Citrus Rust Mite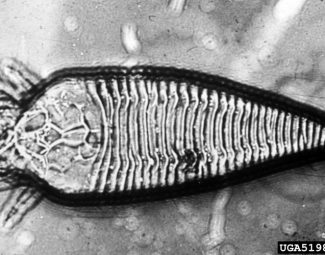 Insect Summary Report
Also known as SILVER MITE on lemons
Phyllocoptruta oleivora

General Information
Citrus Rust Mite can not be seen with unaided human eye.
Present throughout the year, but peak populations usually occur in June and July.
Avoids areas of dew formation.
Prefers outer canopy – avoids direct sunlight but usually can be found on partially sun-shielded part of plant.
Feed on fruit, stems and leaves.
Populations usually decline in Aug.-Sept. and rebound in Oct.-Nov.
Bronzing (referred to as "sharkskin" or "buckskin") is caused by early season feeding. Blackening of fruit is caused by late season feeding of citrus fruit peel. Silver appearance on lemons.
Though moderate populations may cause cosmetic damage only, yet this will drastically lower value of fresh market fruit.
Heavy opulations may decrease size of fruit and can increase fruit drop when 50-75% of the fruit peel suffers feeding damage.
Bronzing may also occur to damaged leaves.
Life Cycle (7 days at 81 degrees F)
Eggs…      Hatch within 3 days at 81 degrees F.
Larva…    Resembles adult. Appears clear to yellow.  Molts into nymph after 2 days at 81 degrees F.
Nymph… Resembles larva in appearance.  Molts into adult after 2 days at 81 degrees F.
Adult…    14-20 days, but longer during winter months.  Begins laying eggs approximately 2 days after last molt.  Lays 1-2 eggs/day and can lay 20-30 eggs over a 20 day period.
Field Sampling
Determination of percentage of affected fruit is an important parameter.
Qualitative rating scale of extent of damage to fruit is commonly used.
Take individual mite counts per square cm from randomly selected fruits.  Avoid sampling adjacent trees.  Sampled areas should be midway between sun and shaded areas of the tree and the surface of the fruit should also be midway between sun and shade.  20 trees/10-40 acres, 4 sampled areas/tree.  Avoid sampling border rows as part of threshold calculations.
Treatment Thresholds
Processed fruit…. 10 rust mites/square cm.
Fresh fruit…. 2 rust mites/square cm.
Over-wintering Strategy
Over-winter in crevices of bark and old leaves.  Life cycle slows significantly or ceases in cooler temps.
Organic Control
General Info

No known predatory mites exist that specialize on this mite. Other general mite predators may be worth trying.

Commonly Used Products
Cultural Control
Dense canopy can slow increase of citrus mite populations.
Bibliography
Image by Florida Division of Plant Industry , Florida Department of Agriculture and Consumer Services, Bugwood.org (citrus rust mite)
http://edis.ifas.ufl.edu/CH179 A Guide to Citrus Mite Identification, Horticultural Sciences Department, Florida Cooperative Extension Service, Institute of Food and Agricultural Sciences, University of Florida. Published March 2001. (General Information)
http://www.ipm.ucdavis.edu/PMG/r107400511.html (conventional recommendations)
Sérgio Batista Alves, Marco Antonio Tamai, Luciana Savoi Rossi and Enrique Castiglioni; Beauveria Bassiana Pathogenicity to the Citrus Rust Mite Phyllocoptruta Oleivor, Experimental and Applied Acarology, Vol. 37 Oct. 2005, pp.117-122.
http://edis.ifas.ufl.edu/CG002 2008 Florida Citrus Pest Management Guide: Rust Mites, Spider Mites, and Other Phytophagous Mites Entomology and Nematology Department, Florida Cooperative Extension Service, Institute of Food and Agricultural Sciences, University of Florida. Date printed: December 1995. Date revised: November 2007. (Threshold, life cycle, field sampling, effect of dense canopy on populations)