Yellow Jacket Flowable Sulfur
Manufacturer: International Sulfur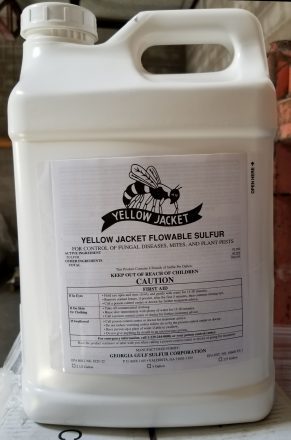 Yellow Jacket Flowable Sulfur is available in the following sizes: 2.5 gal, 5 gal case (2-2.5 gal), 180 gal pallets
Product Name
Product Manufacturer
International Sulfur, Inc.
Product Type
Description
Sprayable sulfur
Indications
Broad spectrum insecticide, fungicide, and miticide.
Yellow Jacket Flowable Sulfur –  Info and Media Learning Center
Presentations, Studies, and other Technical Info (Graphs, Charts, etc)
Notes
Flowable Sulfur is a fairly inexpensive solution for rust mite control.  Do not use mix oils or use within 3-4 weeks of oil applications.