O Vinegar – 15%
Manufacturer: Mizkan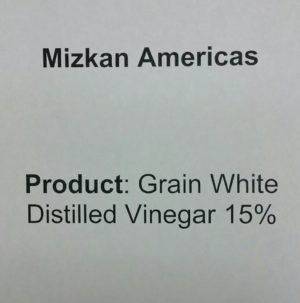 Mizkan Vinegar 15% is available in the following sizes: 220 gal pallet (4 – 55 gal drums), pallet tank

Product Name
Mizkan Vinegar 15%
Product Manufacturer
Mizkan
Product Type
Description
Liquid White Vinegar
Drip Irrigation Cleaner/pH Adjuster
Indications
As needed for drip irrigation cleaning depending on water quality and frequency of fertigation.
As needed for pH adjustment of spray tank water depending on water quality and other tank mix products.
Mizkan Vinegar 15% –  Info and Media Learning Center
Presentations, Studies, and other Technical Info (Graphs, Charts, etc)
Notes
A minimum of monthly applications are advised for efficient drip irrigation system cleaning.  With poor quality water and/or regular fertigation, more frequent treatments may be necessary.  Biological products injected in drip irrigation may increase flow problems as well, again requiring a more proactive approach to systen cleaning.