O Tiger Sulfur – 90% For Soil
Manufacturer: Tiger-Sul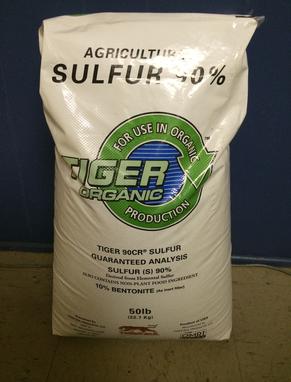 Tiger Sulfur 90% is available in the following sizes: 50 lb bags, pallet (50 lb bags), pallet (super bag)
Product Name
Product Manufacturer
Tiger-Sul Products
Product Type
Soil Treatment / Plant Nutrition
Description
Water degradable sulfur combined with a special formulation of bentonite clay and wetting agents.  This sulfur comes in a hard "pellet" that has the shape of a split pea.
Indications
High sodium levels in the soil and/or soil sulfur deficiency.
Modifies soil chemistry, aids in sodium leaching, and improves mineral uptake in high pH soils, especially phosphate and micronutrients.
Tiger Sulfur 90%  –  Info and Media Learning Center
Presentations, Studies, and other Technical Info (Graphs, Charts, etc)