OR Nordox 75 WG
Manufacturer: Brandt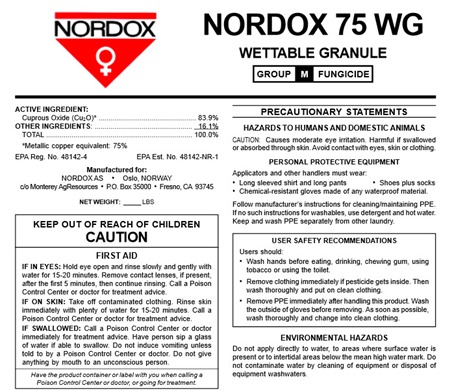 Nordox 75 WG is available in the following sizes: 170 lbs (5 – 34 lb bags)
Product Name
Product Manufacturer
Brandt
Product Type
Description
Copper hydroxide
Functions as fungicide, bacteriacide, nutrient.
Indications
Copper Hydroxide (or other copper products, see here for a short explanation of copper fungicides) may be used when fungal or bacterial control is needed.
Repeated applications may cause copper toxicity in some plants, usually used in rotation with other products when control is needed over an extended part of the crop cycle.
Nordox 75 WG – Info and Media Learning Center
Presentations, Studies, and other Technical Info (Graphs, Charts, etc)
Notes
Broad-spectrum control of fungal and bacterial diseases