O MycoApply Ultrafine Endo/Ecto Mycorrhizae
Manufacturer: Mycorrhizal Applications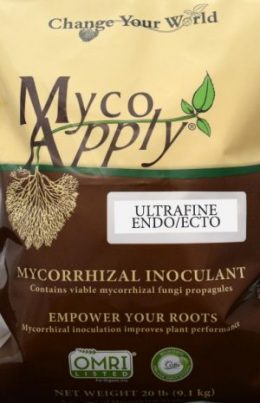 MycoApply Ultrafine Endo/Ecto is available in the following sizes: 20 lb bags
Product Name
Product Manufacturer
Mycorrhizal Applications
Product Type
Description
Root Treatment/Microbial
Endo / Ecto Mycorrhizae Fungi – 4 species endo; 7 species ecto
Indications
Appropriate for use on conifers, oaks, pecans, and other species (see notes for more info).  Replaces MycoApply Micronized Endo/Ecto.
MycoApply Ultrafine Endo/Ecto  –  Info and Media Learning Center
Presentations, Studies, and other Technical Info (Graphs, Charts, etc)
Notes
Suspendable formulation – Stays in suspension with minimal agitation.
Equipment considerations – When using this product make sure all screens in the systems are 70 mesh or larger.
See mycorrhizae technical pages for plant species that symbiotically associate with this product.