O MycoApply Soluble Maxx (Endo/Ecto Mycorrhizae)
Manufacturer: Mycorrhizal Applications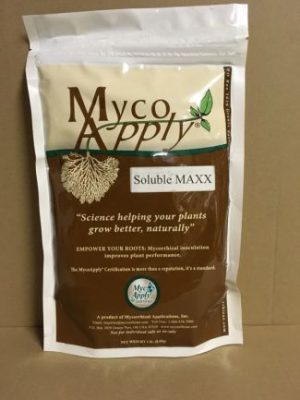 MycoApply Soluble MAXX is available in the following sizes: 1 lb bags

Soluble Maxx is only available for sale to commercial growers.
Product Name
Product Manufacturer
Mycorrhizal Applications
Product Type
Description
Microbial
19 endo/ecto mycorrhizae fungi, 2 trichoderma, and 12 bacterial species
Indications
Soil drench that will help in re-establishing biological diversity in the soil.
MycoApply Soluble MAXX  –  Info and Media Learning Center
Presentations, Studies, and other Technical Info (Graphs, Charts, etc)
Notes
See mycorrhizae technical pages for plant species that symbiotically associate with this product.