Metalosate NPK
Manufacturer: Albion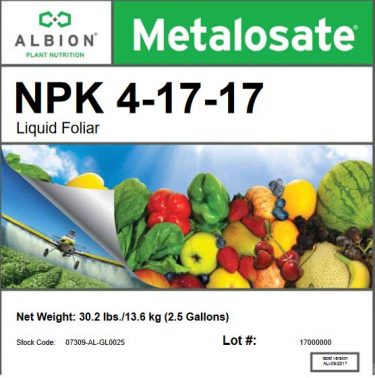 Metalosate NPK is available in the following sizes: 2.5 gal (5 gal case), 180 gal pallet
Product Name
Product Manufacturer
Albion Plant Nutrition
Product Type
Description
Suited for foliar application – efficient, rapid nutrient uptake.
Liquid form of quality NPK.
Nitrogen (N) ………………………………………………………………4.0% ( 1.2% Ammonical Nitrogen 2.8% Urea Nitrogen)
Available Phosphate (P205)…………………………………………17.0%
Soluble Potash (K20) ……………………………………………….…17.0%
Derived From: Urea, Ammonium Phosphate, and Dipotassium phosphate
Indications
NPK deficiencies in plants are determined by test, observation, or known nutritional needs of certain plants and/or systems. Albion Metalosate NPK 4-17-17 provides easily absorbable and "plant friendly" NPK for immediate use by the plant.
Metalosate NPK  –  Info and Media Learning Center
Presentations, Studies, and other Technical Info (Graphs, Charts, etc)
Notes
Albion Metalosate NPK is highly water soluble, with excellent uptake efficiency when applied as a foliar spray.