O KMS
Manufacturer: Diamond K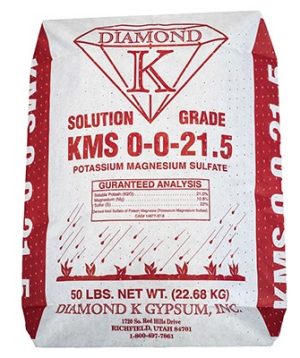 KMS is available in the following sizes:  full pallet (50 lb bags), pallet (super bag)

Product Name
Product Manufacturer
Diamond K
Product Type
Soil Treatment / Plant Nutrition
Description
Potassium Magnesium Sulfate: 0-0-22-11Mg-22S
Finely ground, slowly water soluble powder.
Suitable for injection through irrigation systems.
(Diamond K, the manufacturer of KMS, also sells specially designed applicators to more easily inject this KMS product into a variety of irrigation systems)
Indications
Soil potassium deficiency, soil magnesium deficiency, soil sulfur deficiency.
KMS  –  Info and Media Learning Center
Presentations, Studies, and other Technical Info (Graphs, Charts, etc)
Notes
Can be applied through irrigation: drip, sprinkler, or pivot.
Click here to see Fertigation Machines made to apply Diamond K Gypsum, Potassium Sulfate, and KMS (Potassium-Magnesium Sulfate) through your irrigation.