OR Keyplex 350 OR
Manufacturer: KeyPlex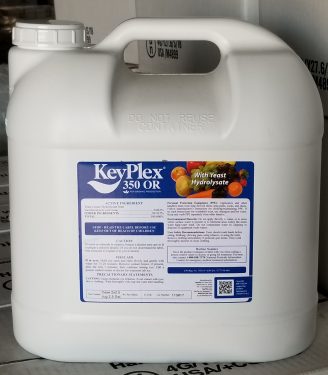 Keplex 350 OR  is available in the following sizes: 2.5 gal, (5 gal case), 180 gal pallet

Product Name
Product Manufacturer
Keyplex
Product Type
Description
Fungicide containing yeast extract hydrolysate from Saccharomyces cerevisiae .
Indications
Keyplex 350 OR will elicit production of defensive proteins in certain plants.  Keylex 350 OR will aid in the prevention of certain plant diseases such as post-bloom fruit drop and greasy spot diseases of citrus, and bacterial leaf spot disease of tomatoes.
Keyplex 350 OR –  Info and Media Learning Center
Presentations, Studies, and other Technical Info (Graphs, Charts, etc)
Notes
Keyplex 350 OR is registered for use in most states.  See full list here (bottom of page).