OR Granubor
Manufacturer: U.S Borax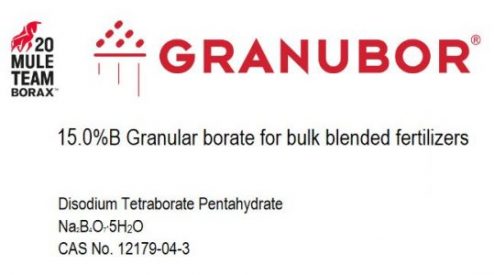 Granubor is available in the following sizes: 50 lb bags, 2450 lb pallet (50 lb bags)

Product Name
Product Manufacturer
U.S. Borax
Product Type
Description
Sodium Borate (15% Boron), water soluble and granulated for mixing with other nutrients in a "dry spreading" application.
Indications
Boron deficiency in plants or soil.
Boron deficiency (and toxicity) in plants is determined by test, observation, or known nutritional needs of certain plants and/or systems.  Boron is critical to many plant functions, but overuse of boron can easily lead to toxicity, so the type and amount of boron applied to crops should be carefully measured and monitored.   Small amounts of boron are also available in the various Biomin Booster multimineral products, such as Cal-Boro, and Cal-Boro Light.
Granubor  –  Info and Media Learning Center
Presentations, Studies, and other Technical Info (Graphs, Charts, etc)
Notes
Boron is often deficient in multiple fruiting crops, especially late season.