OR Ferti-Organic Neem Oil
Manufacturer: Ferti-Organic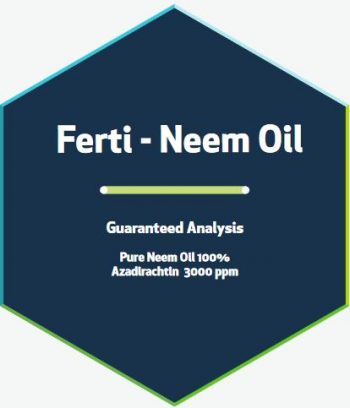 Ferti-Organic Ferti-Neem Oil is available in the following sizes: 1 gal, 5 gal, 55 gal drum

Product Name
Ferti-Organic Ferti-Neem Oil
Product Manufacturer
Ferti-Organic, Inc.
Product Type
Description
A natural oil extracted from the Neem tree using cold process technology.
Effective against insecticide-resistant pests and yet does not harm beneficial insects.
The active ingredient, azadirachtin, works by inhibiting the development of immature insects.
Possesses germicidal and anti-bacterial properties which are useful to protect the plants from a variety of pests.
Indications
Provides effective suppression of a wide range of insects and diseases.
Often used in conjunction with more specifically targeted pesticides as part of an IPM proogram.
Ferti-Organic Ferti-Neem Oil  –  Info and Media Learning Center
Presentations, Studies, and other Technical Info (Graphs, Charts, etc)
Notes
Typically used in conjunction with foliar applications of Karanja oil.
Contact Earthwise for Neem/Karanja mixing instructions.
This product has a melting/hardening threshold of about 60 – 65 F.