O Ferti-Organic Ferti-Fulvic Plus
Manufacturer: Ferti-Organic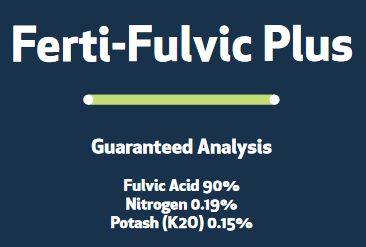 Ferti-Organic Ferti-Fulvic Plus is available in the following sizes: 50 lb bags, pallet (50 lb bags)

Product Name
Product Manufacturer
Ferti-Organic, Inc.
Product Type
Soil Treatment / Plant Nutrition / Adjuvant / Plant Stimulator
Description
High concentration of Fulvic Acid – 90% or more.
Plant biostimulant with diverse substances to enhance plant growth.
Indications
Assists in plant nutrient uptake, especially useful in foliar formulations.
Prevents NPK nutrients from leaching, and enhances photosynthesis and respiration.
Ferti-Organic Ferti-Fulvic Plus  –  Info and Media Learning Center
Presentations, Studies, and other Technical Info (Graphs, Charts, etc)