OR Double Nickel 55
Manufacturer: Certis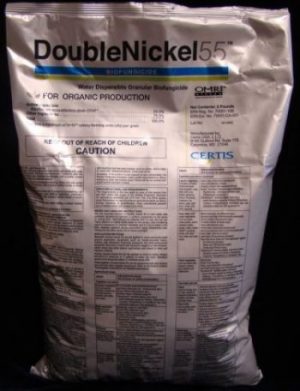 Double Nickel 55 is available in the following sizes: 5 lb bags, 30 lb case (6 – 5 lb bags)

Product Name
Product Manufacturer
Certis
Product Type
Description
Fungicide/Bacteriacide
Bacillus amyloliquefaciens
Indications
Suppression of fungal and bacterial diseases on foliage and in the soil.  Broad spectrum preventive (and curative biopesticide.
Double Nickel 55  –  Info and Media Learning Center
Presentations, Studies, and other Technical Info (Graphs, Charts, etc)
Notes
Boilogical (living) product which works best as a preventive but also as a curative.  Can be used in the soil or as a foliar spray.