O Constant BUpH-er
Manufacturer: Verdesian Life Sciences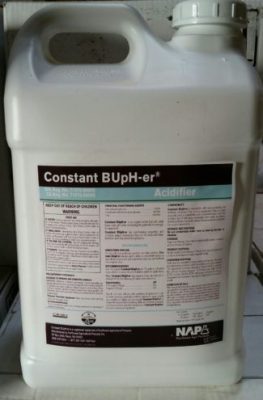 Constant BUpH-er is available in the following sizes: 2.5 gal (5 gal case), 180 gal pallet
Product Name
Constant BUpH-er
Product Manufacturer
Verdesian Life Sciences
Product Type
Description
Spray Tank pH Regulator
Non-foaming pH buffer
Improves nutrient uptake and pesticide stability
Indications
Use with foliar sprays to adjust the tank solution to near pH of 6.0 for increased uptake efficiency.
Use with products requiring specific pH range for efficacy.
Constant BUpH-er  –  Info and Media Learning Center
Presentations, Studies, and other Technical Info (Graphs, Charts, etc)
Notes
Constant BUpH-er is an organic buffer that will safely lower water pH while minimizing
the potential for damage to equipment.
Specific use rates will vary with conditions of applications such as water hardness,
application method, equipment, spray droplet size, condition of foliage, etc.