OR Cobalt 3%
Manufacturer: Baicor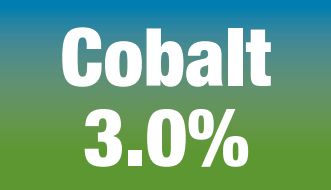 Cobalt 3% is available in the following sizes: 5 gal case

Product Name
Product Manufacturer
Baicor
Product Type
Description
Water soluble 3% Cobalt derived from Cobalt Sulfate.
Indications
Plant nutrient derived from cobalt sulfate to help prevent and correct deficiencies.
For soil and foliar application.  Essential for Nitrogen fixing in legumes.
Cobalt 3% –  Info and Media Learning Center
Presentations, Studies, and other Technical Info (Graphs, Charts, etc)
Notes
Cobalt is considered a beneficial nutrient as opposed to an essential element.  It is, however, essential in the fixation of atmospheric Nitrogen in legumes.