OR Brandt TriTek
Manufacturer: Brandt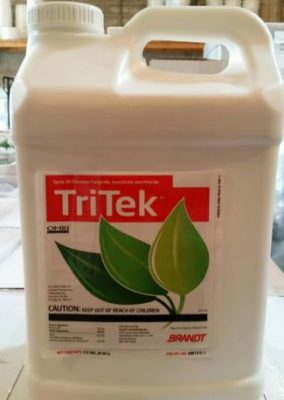 Brandt TriTek is available in the following sizes: 2.5 gal (5 gal case), 240 gal pallet
Product Name
Product Manufacturer
Brandt
Product Type
Description
Mineral oil spray
Created by reverse emulsion proces which allows for small droplet size and tank water compatibilty
Fungicide, insecticide, miticide
Indications
TriTek is a broad-spectrum fungicide, instecticide, and miticide.  It is a reverse emulsion formulation with the consistency (and look) of liquid yogurt.  The reverse emulsion process allows it to break into a very small droplet size when sprayed as part of a foliar mixture.  This allows for a more complete and uniform coverage of the plant surface.  It is often used in conjunction with Brandt Ecotec Plus.
Brandt TriTek – Info and Media Learning Center
Presentations, Studies, and other Technical Info (Graphs, Charts, etc)
Notes
Brandt TriTek is made with a reverse emulsion process that allows this oil to mix very easily with water in the spray tank.
Small droplet size greatly enhances plant leaf surface coverage.
Zero days to harvest, 4 hour reentry interval.