OR Brandt Super Wetter
Manufacturer: Brandt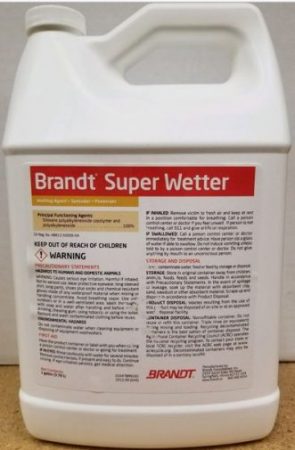 Brandt Super Wetter is available in the following sizes: 1 gal  (4 gal case),  144 gal pallet
Product Name
Product Manufacturer
Brandt
Product Type
Description
Non-ionic, organosilicone surfactant – superspreader
Indications
Brandt Super Wetter should be used in formulations where a highly effective, non-ionic, silicone based spreader is indicated.  When applied properly, it works well to get full wetting of the leaf surface.  This is a highly concentrated product.
Brandt Super Wetter – Info and Media Learning Center
Presentations, Studies, and other Technical Info (Graphs, Charts, etc)
Notes
This is a very concentrated and highly effective product.  Use according to label directions.  Too high a concentration may lead to much of the foliar spray dripping off the leaf of the plant.