OR Brandt Organics SKH Sticker
Manufacturer: Brandt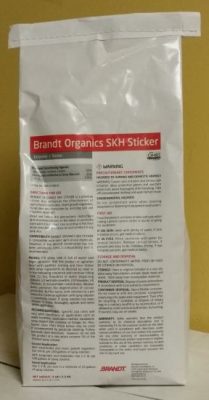 Brandt Organics SKH Sticker is available in the following sizes:  5 lb,  50 lb case, 1400 lb pallet

Product Name
Brandt Organics SKH Sticker
Product Manufacturer
Brandt
Product Type
Description
Sticker for foliar applications
Indications
Use in tank mix for better and longer contact with leaf surface when spraying fertility and pest control products.  Especially important when there is a chance of light rain or heavy dew soon after foliar spraying.
Brandt Organics SKH Sticker  –  Info and Media Learning Center
Presentations, Studies, and other Technical Info (Graphs, Charts, etc)
Notes
Mineral based sticker, will help foliar applications stay on the leaf longer in high moisture conditions.  Often used with spreader or wetting agent.