O Brandt Organics Ag Aide
Manufacturer: Brandt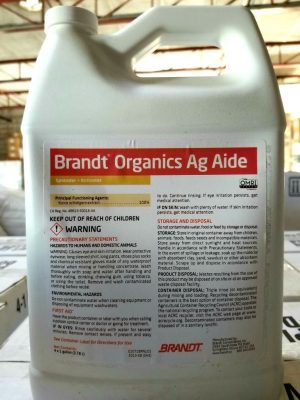 Brandt Organics Ag Aide is available in the following sizes: 1 gal  (4 gal case), 144 gal pallet
Product Name
Brandt Organics Ag Aide
Product Manufacturer
Brandt
Product Type
Description
Yucca formulation (Yucca schidigera extract)
Surfactant, Penetrant
Indications
Brandt Ag Aide is recommended for use where a natural, non-ionic surfactant (wetting agent, spreader) is needed for foliar applications of fertility, pest control or weed control.
Brandt Organics Ag Aide – Info and Media Learning Center
Presentations, Studies, and other Technical Info (Graphs, Charts, etc)
Notes
Can be used with most pesticides.    Rates are dependent on water analysis and may be product specific.
Replaces Green Cypress Ag Aide.