O Azomite Micronized Natural Trace Minerals
Manufacturer: Azomite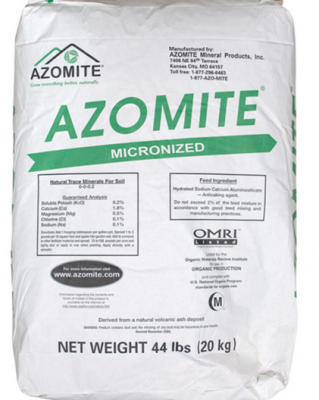 Azomite Micronized Natural Trace Minerals is available in the following sizes: 44 lb bags, pallets (44 lb bags) 
Product Name
Product Manufacturer
AZOMITE Mineral Products, Inc.
Product Type
Description
Natural Volcanic Trace Mineral Source
Indications
Can go through irrigation systems.
Beneficial for all soils.
Labeled for animal supplementation as well as soils.
AZomite Micronized Natural Trace Minerals  –  Info and Media Learning Center
Presentations, Studies, and other Technical Info (Graphs, Charts, etc)
Notes
Contains small amounts of "exotic" trace minerals often missing or in low amounts in foods and soils.