OR Sil-Matrix
Manufacturer: PQ Corporation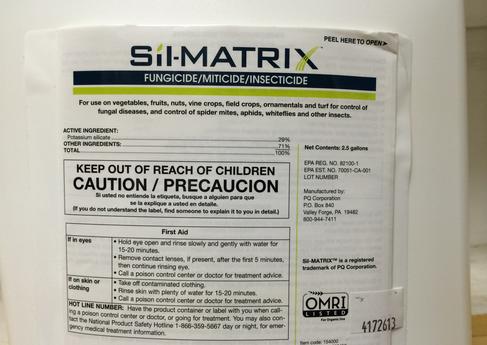 Sil-Matrix is available in the following sizes: 2.5 gal (5 gal case), 180 gal pallet
Product Name
Product Manufacturer
PQ Corporation
Product Type
Description
Potassium Silicate Formulation
Fungicide/Miticide/Insecticide
Indications
For foliar applications; creates a physical silicon matrix barrier and causes insect dessication.
Labeled for some airborne foliar diseases and some insects – See label for details.
Sil-Matrix  –  Info and Media Learning Center
Presentations, Studies, and other Technical Info (Graphs, Charts, etc)
Notes
Tank solution must not be neutral when using this product.  A pH of less than 6 or more than 8 is recommended.
Also may not be used with inorganic fertilizers – a reaction will occur, causing settling and a loss of product efficiency.
Zero days to harvest.