Calcium Chelate
Manufacturer: Natural Resources Group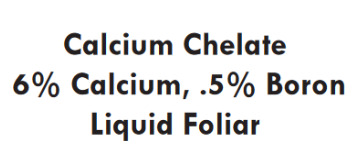 Available in the following sizes: 2.5 gal,  5 gal, pallet tank, and bulk truckload

Product Type
Plant Nutrient
Description
Organically complexed
Calcium (Ca) ………………………………………………………………..6% Complexed Calcium
Boron (B) …………………………………………………………………….0.5% Complexed Boron
Indications
Calcium/Boron deficiency in plant.
Notes
Calcium and Boron are often deficient in multiple fruiting crops from flowering stage on.
Calcium and Boron are a major part of the structural "skeleton" of the cell wall.  A strong cell wall structure resists disease organisms more effectively.  This can lead to less disease incidence and increased shelf life of the targeted crop.