OR Brandt Ecotec Plus
Manufacturer: Brandt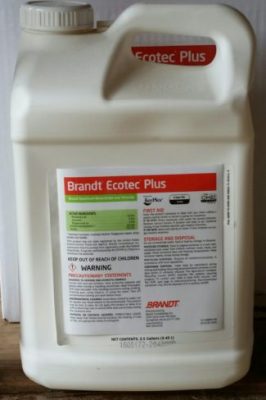 Available in the following sizes: 2.5 gal (5 gal case),  180 gal pallet
Product Type
Plant Protection
Description
Broad spectrum miticide and insecticide.    Contains rosemary and peppermint oils PLUS Geraniol.
Indications
Controls pests such as, but not limited to, mites, aphids, beetles, thrips, whiteflies, caterpillars, and mealybugs.
Notes
Can be used alone but is often used as a tank mix with oils and insecticides.
As part of a tank mix, Ecotec Plus may cause excessive movement and confusion of insect sensory mechanism, thus enhancing activity of other contact insecticides.
Has a very pleasant smell due to its composition of essential oils.