OR Biomin Calcium
Manufacturer: JH Biotech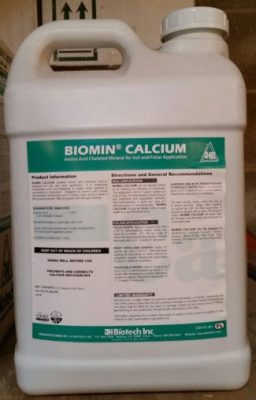 Available in the following sizes: 1 qt, 1 gal, 2.5 gal (5 gal case), 180 gal pallet
Product Type
Plant Nutrition
Description
Foliar application – efficient, rapid mineral uptake.
Amino Acid chelated form of micronutrients.
Calcium (Ca) …………………………………………………………………5% Chelated Calcium
Indications
Calcium deficiency in plant.
Notes
Liquid formulation, readily absorbed and utilized in the plant.
Calcium and Boron are a major part of the structural "skeleton" of the cell wall.  A strong cell wall structure resists disease organisms more effectively.  This can lead to less disease incidence and increased shelf life of the targeted crop.