o The Farm's Choice 4-2-2
Manufacturer: Hickman's Egg Ranch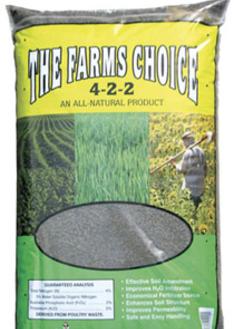 The Farm's Choice 4-2-2 is available in the following sizes:  full pallet (50 lb bags), pallet (super bag)
Product Name
Product Manufacturer
Hickman's Egg Ranch, Inc.
Product Type
Description
4-2-2
Dehydrated and heat pasteurized chicken manure pellets.
Promotes health and productivity naturally without chemically enhanced fertilizers.
Indications
Features a slow release nitrogen and is also high in organic calcium, phosphorus, and potassium.
The Farm's Choice 4-2-2   –  Info and Media Learning Center
Presentations, Studies, and other Technical Info (Graphs, Charts, etc)
Notes:  6-2-2 and 8-2-2 formulations are also available from this manufacturer.