OR TerraNeem EC
Manufacturer: Terramera, Inc.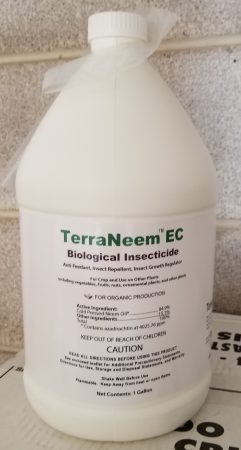 TerraNeem EC is available in the following sizes: 1 gal, (4 gal case)

Product Name
TerraNeem EC
Product Manufacturer
Terramera, Inc.
Product Type
Description
Pre-Emulsified, Cold-pressed Neem Oil.
Indications
Broad-spectrum insecticide (natural growth regulator)
Long lasting insecticidal, anti-feedant and antifungal properties, especially when used with other natural products.
TerraNeem EC  –  Info and Media Learning Center
Presentations, Studies, and other Technical Info (Graphs, Charts, etc)
Notes
Pre-emulsified cold-pressed Neem Oil product ready to mix with water.  Use warm water for mixing if available (above 75F).  Use with other natural penetrants and insecticides to increase effectiveness and absorption into the plant.