O Terramera Karanja Oil
Manufacturer: Terramera, Inc.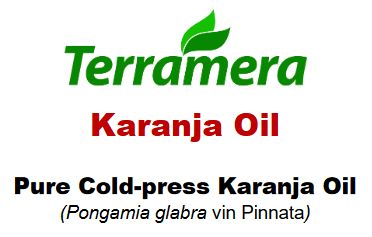 Terramera Karanja Oil is available in the following sizes: 1 gal, 2.5 gal, 52.8 gal drum, 4-52.8 gal drums, 180 gal pallet

Product Name
Terramera Karanja Oil
Product Manufacturer
Terramera, Inc.
Product Type
Description
100% natural, cold-pressed Karanja oil.
Adjuvant for natural insecticides and fungicides, especially Neem Oil.
Indications
Used as an adjuvant in a tank mix with other natural insecticides as needed for control of insect pests.
Terramera Karanja Oil  –  Info and Media Learning Center
Presentations, Studies, and other Technical Info (Graphs, Charts, etc)
Notes
Typically used as an adjuvant with foliar applications of neem oil or other natural insecticides.
See Neem/Karanja mixing instructions for special mixing considerations.
This product has a melting/hardening threshold of about 50-55 F.