O Nature's Source Plant Biotik
Manufacturer: Nature's Source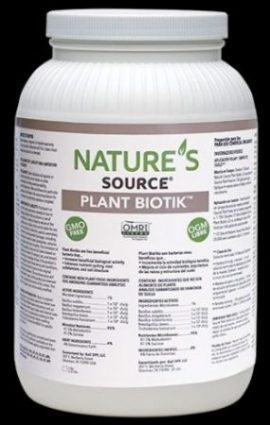 Nature's Source Plant Biotik is available in the following sizes:   5 lb

Product Name
Product Manufacturer
Nature's Source
Product Type
Description
Microbial
Live beneficial bacteria complex contributing to an ideal soil environment with the purpose of promoting healthy plant growth through more efficient utilization of available nutrients.
Indications
As an aid in nutrient breakdown, availability, and absorption; reduces nutrient leaching.
For use in improving soil structure and environment: promotes stronger rooting and strengthens the plant's natural immunity through efficiencies in nutrient acquisition.
Nature's Source Plant Biotik  –  Info and Media Learning Center
Presentations, Studies, and other Technical Info (Graphs, Charts, etc)