O Ferti-Organic Soluble Fulvic Acid
Manufacturer: Ferti-Organic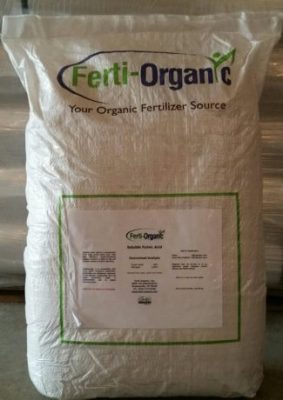 Ferti-Organic Soluble Fulvic Acid is available in the following sizes: 50 lb bags, pallet (50 lb bags)

Product Name
Product Manufacturer
Ferti-Organic, Inc.
Product Type
Soil Treatment / Plant Nutrition / Adjuvant / Plant Stimulator
Description
Short-chain Organic Acid, Water Soluble Powder – 69% Fulvic Acid
Penetrant, Adjuvant, Stimulant
Indications
Assists in plant nutrient uptake, especially useful in foliar formulations.
Ferti-Organic Soluble Fulvic Acid  –  Info and Media Learning Center
Presentations, Studies, and other Technical Info (Graphs, Charts, etc)
Fulvic acid is the short chain component of the full range of humic acid products.  The smaller molecule makes it more easily absorbable into leaf and root tissue than the longer chain Ulmic and Humic acids.  This is beneficial for absorption of the product itself, but also facilitates the entry of other co-applied  nutrients and crop protection aids into the plant.