Soil Vigor 10-2-3
Manufacturer: Natural Resources Group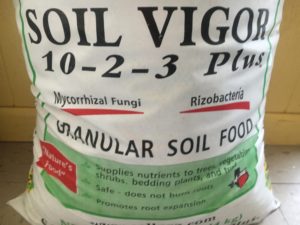 Available in the following sizes: 40 lb bags, 2000 lb pallet
Product Name
Soil Vigor 10-2-3
Product Manufacturer
Natural Resources Group
Product Type
Description
10-2-3
Organic-based granular NPK with mycorrhizae and additional beneficial bacteria and fungi.
Note: Manufacturer no longer maintains OMRI certification on this product.
Indications
NPK fertility
Low microbial-life soils
Plantings of perennial bushes and trees
Soil Vigor 10-2-3  –  Info and Media Learning Center
Notes:
For use in lawn and garden applications.
Excellent for permanent crops at planting or as a topdress amendment.