o Potassium Sulfate (Sulfate of Potash) – Ultrafine
Manufacturer: Diamond K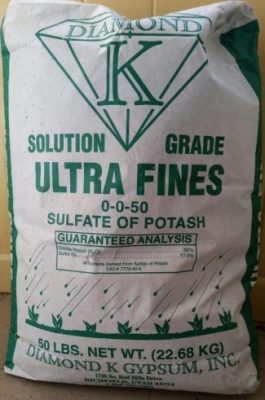 Sulfate of Potash is available in the following sizes:  50 lb bags,  2500 pallet, 2000 lb super bag (half or full loads)
Product Name
Product Manufacturer
Diamond K Gypsum
Product Type
Soil Treatment / Plant Nutrition
Description
50% Potash,  Water Soluble Fine Powder
Indications
Soil potassium deficiency, plant potassium deficiency.
A need for a product to inject through irrigation system.
Sulfate of Potash  –  Info and Media Learning Center
Presentations, Studies, and other Technical Info (Graphs, Charts, etc)
Notes:
Suitable for application through irrigation: drip, sprinkler or pivot.
Suitable for foliar use.
Low Salt Index.
Applied potassium is often needed late season, esp in multiple fruiting crops (cotton, cucurbits, tomatoes) as the roots exhaust supplies in their immediate vicinity.