OR Neem Pro 100%
Manufacturer: Neem Pro, Inc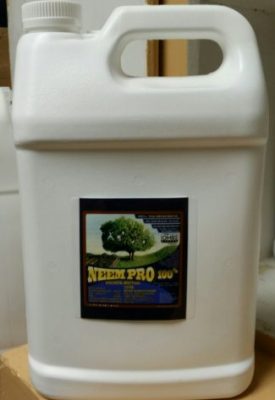 Neem Pro is available in the following sizes: 1 gal, 2.5 gal (5 gal case),  55 gal drum, 220 gal (4 drum pallet)

Product Name
Product Manufacturer
Neem Pro, Inc.
Product Type
Description
Unrefined, cold-processed 100% natural oil from the Neem tree.
Indications
Neem Pro 100% is a broad-spectrum insecticide (growth regulator).
Its systemic effects on insects are somewhat unique in organic pest control.
It also has anti-feedant and antifungal properties, especially when used in a tank mix with Karanja Pro and Biorepel.
Neem Pro 100% –  Info and Media Learning Center
Presentations, Studies, and other Technical Info (Graphs, Charts, etc)
Notes
See Neem/Karanja mixing instructions for details about how to emulsify these products.
This product has a melting/hardening threshold of about 65 F, and should not be heated to over 100F.
If it hardens, slowly warm until fully liquid before using.
Neem Pro EC is a cold processed neem oil product (can be used interchangeably with Neem Pro 100%) that comes pre-emulsified – more expensive, but much easier to handle in cool weather.