OR Metalosate Zinc
Manufacturer: Albion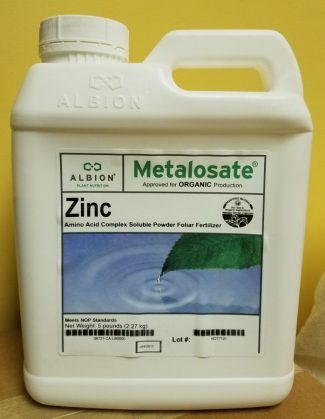 Metalosate Zinc is available in the following sizes: 5 lb jugs,  44 lb drum
Product Name
Product Manufacturer
Albion Plant Nutrition
Product Type
Description
Foliar application – efficient, rapid mineral uptake.
Amino Acid chelated form of micronutrients.
Zinc (Fe) ………………………………………………………………..19.3% Chelated Zinc
Indications
Zinc deficiency in plant determined by test, observation, or known nutritional needs of certain plants and/or systems. Albion Metalosate Zinc provides easily absorbable and "plant friendly" zinc for immediate use by the plant.
Metalosate Zinc  –  Info and Media Learning Center
Presentations, Studies, and other Technical Info (Graphs, Charts, etc)
Notes
Albion Metalosate Zinc is water soluble, with high uptake efficiency when applied as a foliar spray or through drip irrigation.