O Ferti-Organic Soluble Seaweed Extract
Manufacturer: Ferti-Organic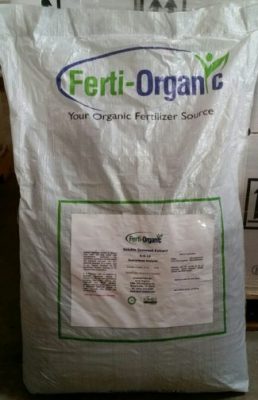 Available in the following sizes: 50 lb bags,  2500 lb pallet
Product Name
Product Manufacturer
Ferti-Organic, Inc.
Product Type
Description
Plant stimulant
Water soluble Seaweed/Kelp
Indications
Use for general plant health and/or recovery from periods of stress.
Ferti-Organic Soluble Seaweed Extract  –  Info and Media Learning Center
Notes
Provides natural, balanced micronutrients and plant growth promoters for rapid uptake at critical growing points, stimulates natural plant immune system defenses.