OR Biorepel
Manufacturer: JH Biotech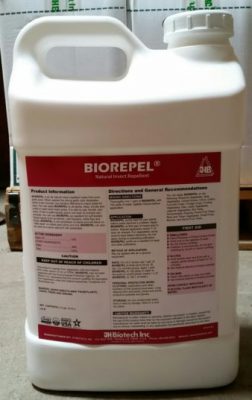 Available in the following sizes: 1 qt,  1 gal,  2.5 gal (5 gal case),  180 gal pallet
Product Type
Adjuvant
Description
Garlic Oil
Penetrant
Insect deterrent
Antifeedant
Indications
Use as adjuvant in tank mixes as a penetrant for moderate insect pressure and/or moderate fungal pressure.
Biorepel –  Info and Media Learning Center
Notes
Helps move nutrients (and crop protection aids) across the leaf membrane in foliar applications, discourages insect feeding, inhibits fungal invasion of plant surfaces.
Used as emulsifier for cold-processed neem oil.