O Azomite Micronized Natural Trace Minerals
Manufacturer: Azomite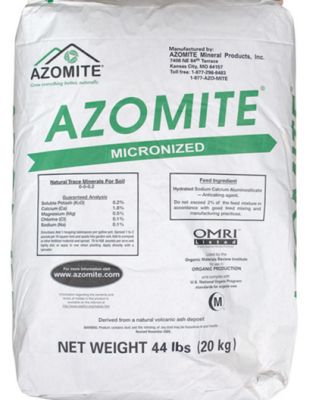 Available in the following sizes: 44 lb,  2200 lb pallets (50 – 44 lb bags) 
Product Name
Product Manufacturer
AZOMITE Mineral Products, Inc.
Product Type
Plant Nutrition / Livestock Feed & Supplements
Description
Natural Volcanic Trace Mineral Source
Indications
Can go through irrigation systems.
Beneficial for all soils.
Labeled for animal supplementation as well as soils.
AZOMITE Micronized  –  Info and Media Learning Center
Notes
Contains small amounts of "exotic" trace minerals often missing or in low amounts in foods and soils.